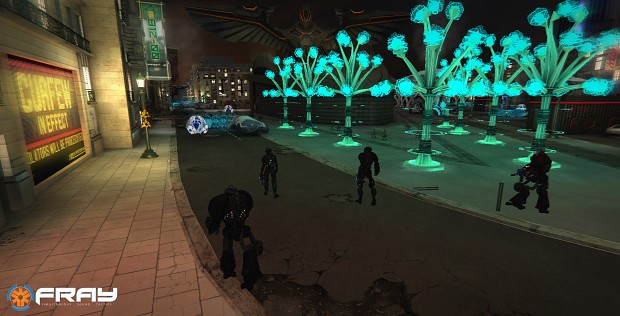 We have come quite a long way since the Alpha and we are really happy with how the game is shaping up. With Beta, corrections to the game will be much more graphical, as we tune and polish animations, trailshots and SFX, camera movement, and of course reduce as much as possible bugs that may arise.
Your feedback as players is what we are most looking forward to, so please share with us your likes and dislikes, don't hesitate to come chat with us and let us know what's on your mind!In the next few weeks we will be distributing Beta keys on our website, and we'll have full game giveaways with partner sites.
You can of course pre-order the game to support our team, you will receive a free CD Key to share with someone, and will keep your player stats after release.
To download the Beta, you can head over to DESURA, which will auto-update the game anytime a new version is out, or you can download the game HERE.
What's coming next for Fray?
Although the game is feature complete, there is still a lot to do in terms of improvements. Major changes will be eye candy, so look forward to new SFX, particles and animation tweaking. We are also preparing a new environment that will be available in a few weeks, CronaMind Labs. This environment is a closed space, inside a CronaCorp facility, where you will get to hide and surprise your enemies in tight corridors and large experiment rooms. We will also be correcting the last bugs in the game, so if you encounter anything problematic in the game, please let us know in our Forums.
So enjoy the Beta and remember:
Make war, not love.
Beta 1 Changelog:
ADDED

3D Models : Models for all weapons and correct textures have been added or updated.
FX : Missing trailshots have been added to weapon evolutions. Trailshot FX are still a work in progress and will be updated during Beta.
Gameplay : Added loyalty bonuses when choosing a corporation.
Gameplay : Added timer bonuses affecting character stances. Certain visual feedbacks are still missing.
Menus : Added a « Refesh » button in the game browser.
Menus : Added timer selection when creating a game (120/90/60 seconds between each turn).
Menus : Match end screen has been modified to show «achievements and player statistics. Design is still a work in progress.
Menus : Weapon levels are now shown in the « Configure Class » section.
Sound : All weapons and equipment now have the proper sound. Some bugs and polish remains and will be updated during Beta.

CHANGED

Environment : Changed Lightmapping on the map The Strike.
Gameplay : Changed balance on the T15D-Sawed, Granger 332 and Quake.
Gameplay : Changed the XP curve for the game. The first levels should be achieved much faster.
Gameplay : Precision has been changed. Precision is now 100% in optimal range and decreases depending on the precision stat of each character as the target is further away. (therefore less missed shots overall)
HUD In Game : Applied corrections to the contextual menu when you hold rirght click.

FIXED

Gameplay : Auras now work correctly when bought as packs.
Gameplay : Corrected weapon and equipment evolutions.
Gameplay : Weapon damages are synchronized and there shouldn't be differences between players in the same game.
HUD In Game : Corrected action bar superposition during Resolution phase.
HUD In Game : Corrected the ready messages when players validate a turn.
Menus : Improved and polished fonctionalities in the menus.